Pub recognised as the best in the South West
Each year, Trencherman's Guide – the South West's own version of the Michelin Guide – reveals which of its members has received the public-voted Trencherman's Awards, including Best Restaurant, Best Chef and Best Dining Pub (which we scooped in 2020). The competition is tough, so to win an award is a big deal.
This year the event took place at Salcombe Harbour Hotel on March 6, and The Farmers Arms' Food and Beverage Manager Harry Brooks and colleague Jay Oyarzabel were delighted to accept the award for Best Bar List.
'We're so proud that The Farmers Arms has been acknowledged as having the best drinks list in the Trencherman's Guide,' says Harry. 'Due to the food, building and service always getting such great feedback, the bar can sometimes feel like a bit of a hidden secret!'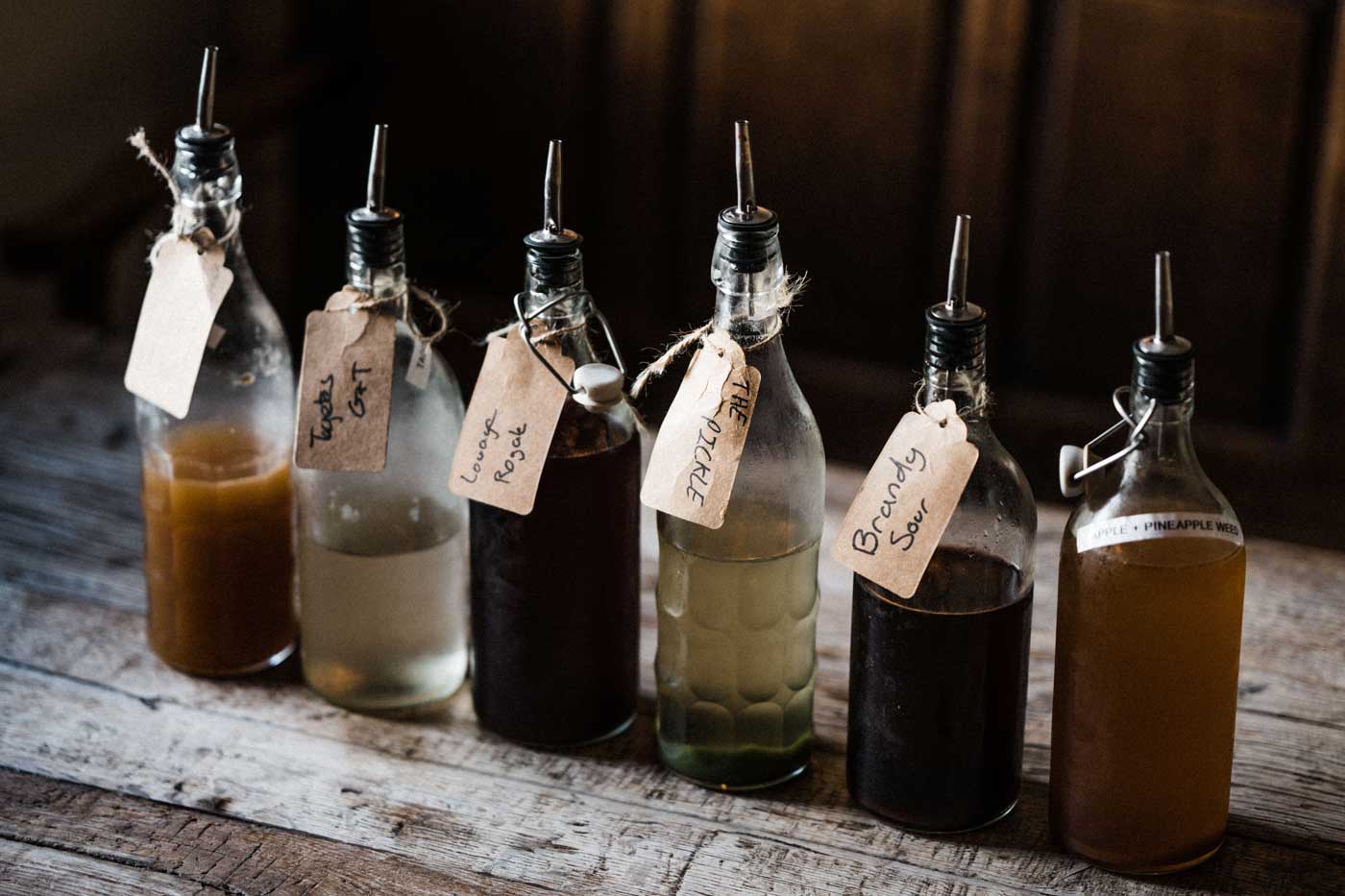 Harry curates a creative collection of wines, homemade cordials, cocktails and locally sourced ales and ciders for the dining pub and bar.
'Our goal has always been to do something unique, but not to alienate guests. For example, instead of offering bought-in juices and soft drinks we make our own seasonal cordials [pictured above].'
To create the unusual drinks range, Harry works closely with the whole Woolsery team: from the kitchen brigade through to the gardeners who grow plants and herbs from which he crafts innovative beverages.
'It's a real team effort. There are multiple front of house staff involved in drinks development, plus we get inspiration from what's in season at the farm and what food style is going on in the kitchen. It's also great to see young members of the front of house team bringing ideas to the table.'
Beyond the produce grown on Birch Farm, Harry and crew source artisan bottles and brews from local suppliers in Devon and across the South West:
'Local suppliers are a huge part of our bar offering. We have a great relationship with a wide range of regional breweries and work closely with our wine suppliers to come up with a familiar yet unique offering at a reasonable price for customers.
'The next step is to use this award as motivation to keep pushing forward!' says Harry.