At Woolsery Fish & Chips, Chef Ash Palmer is in the throes of revolutionising our national dish. Fish that's fresh, responsibly sourced and delicious is paired with local potatoes and a selection of seriously good sides for a next-level experience.
'Our menu is a definite step up from what you'll find in a regular chip shop,' says the forward-thinking frysmith. 'There's no frozen food, tinned mushy peas or packet batter mix: everything is freshly made with love.'
His attention to detail has garnered a loyal following of Woolsery locals, along with fans from neighbouring villages and tourists staying at nearby campsites.
'The menu ties-in to the ethos of the pub and the wider Woolsery estate in that we use locally sourced ingredients wherever possible, which are as fresh as possible and as British as possible,' he says.
Fresh cod is sourced from the Devon & Cornwall Fish Company in the nearby fishing village of Appledore, while potatoes are grown just across the estuary in Braunton. Burgers incur even fewer food miles: the meat for the beef and lamb burgers is reared at our Birch Farm and the veggie burgers crafted from produce from its vegetable gardens.
'For our veggie burgers we use rainbow chard, onions, celeriac, radish, basil, thyme, garlic, grated dried mushrooms and celeriac, which we salt so the veggies ferment in their own liquid. We then add gram flour and English mustard and turn them into veg patties. They're fried and topped with gouda, which melts in the oven.
'We serve them in homemade milk buns with spicy beetroot chutney, beetroot ketchup, basil, baby gem lettuce and freshly grated fennel.'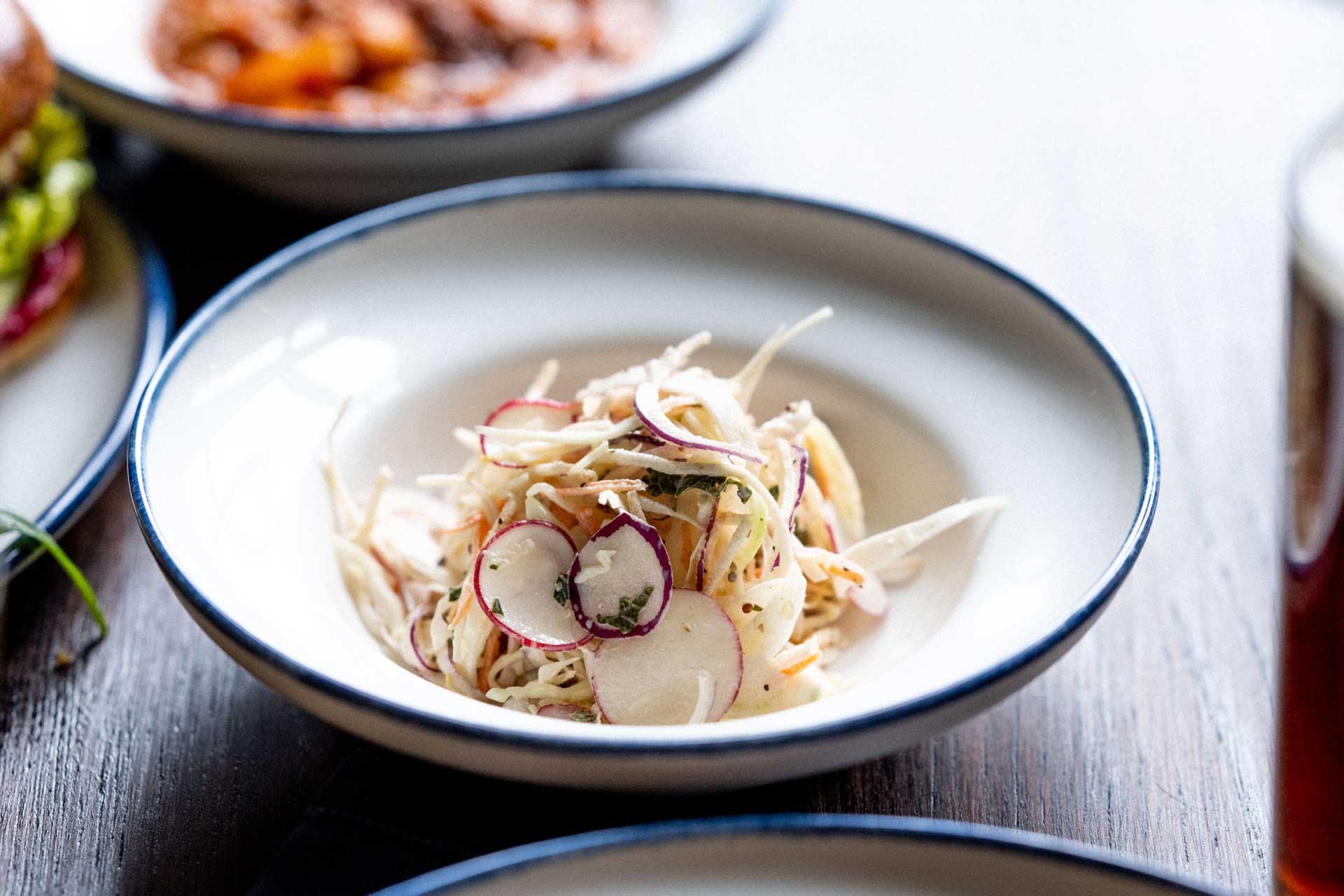 The whole menu is peppered with similarly delicious items that elevate Woolsery Fish & Chips above the regular chippie.
A hugely popular choice is our buttermilk chicken, which is marinated in buttermilk, onions and parmesan rind before being dipped in a mix of flour and herbs (tarragon, oregano, thyme and rosemary) and then fried. Likewise, sticky chicken wings ­– glazed in a mix of ketchup, mustard, honey, sugar, Tabasco, mushroom ferment, vegetable ferment and apple cider vinegar, and flavoured with nigella seeds, lemon, thyme and pepper – are a bestseller.
Even the side dishes are streets ahead as Ash eschews the standard tinned mushy peas and packet curry sauce in favour of homemade alternatives.
'We do minted peas which people really love,' he says. 'They're made with fresh mint, butter, sugar and lemon juice and zest. And our curry sauce is sweet, spicy and smooth and crafted from a base of apples and raisins. It's not gloopy like the usual chip-shop curry sauce.'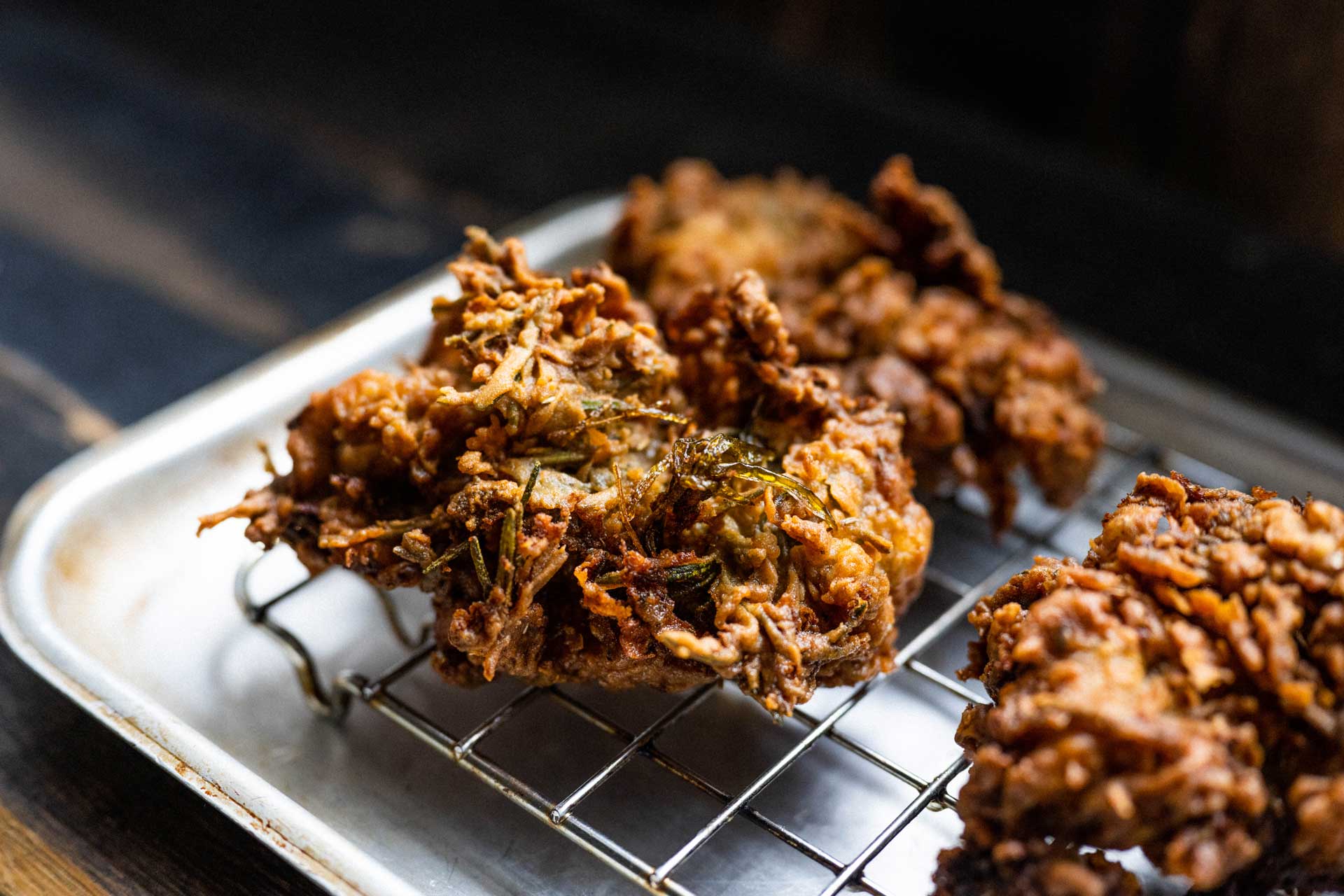 For customers looking for something a little different to pair with their main, Ash recommends homemade coleslaw, which sees fennel, celeriac and radish combined with the familiar trio of white cabbage, carrot and onion.
'It's blended with a dressing made from yogurt, homemade mayo, wholegrain mustard, cracked black pepper, poppy seeds, lemon zest and juice, plus fresh mint. It's not smothered in mayo; it's freshly made every day and lightly dressed.'
Every meal is made to order, so the quality of each takeaway is top-notch. During busier periods, customers can pop into The Farmers Arms next door for a swift half while their supper is being cooked, or select a collection time by using the online ordering service.