There's a cornucopia of vibrant produce at Birch Farm right now which is ripe and ready, according to Head Gardener Josh Sparkes. Executive Chef Ian Webber crafts it into intriguing and inventive dishes for the diners at The Farmers Arms
Sweet and fragrant cherry tomatoes, soft and buttery broad beans, elderflower blooms; it doesn't get much better than late-summer's glut of kaleidoscopic ingredients. It's the best time of year for Ian, who receives overflowing crates of just-picked fruit, veg and herbs from The Collective at Woolsery's 150-acre farm. His task each morning is to turn this incredibly fresh produce into a creative menu of tempting dishes for The Farmers Arms.
Highlights this season so far include a starter of Birch Farm courgettes married with sun-ripened tomatoes, fennel, smoked cashews and a broad bean and garlic puree (pictured top), and a lemon geranium cake dessert, which uses verbena in place of fresh lemons to add a citrus tang, featuring pistachio cream and raspberries.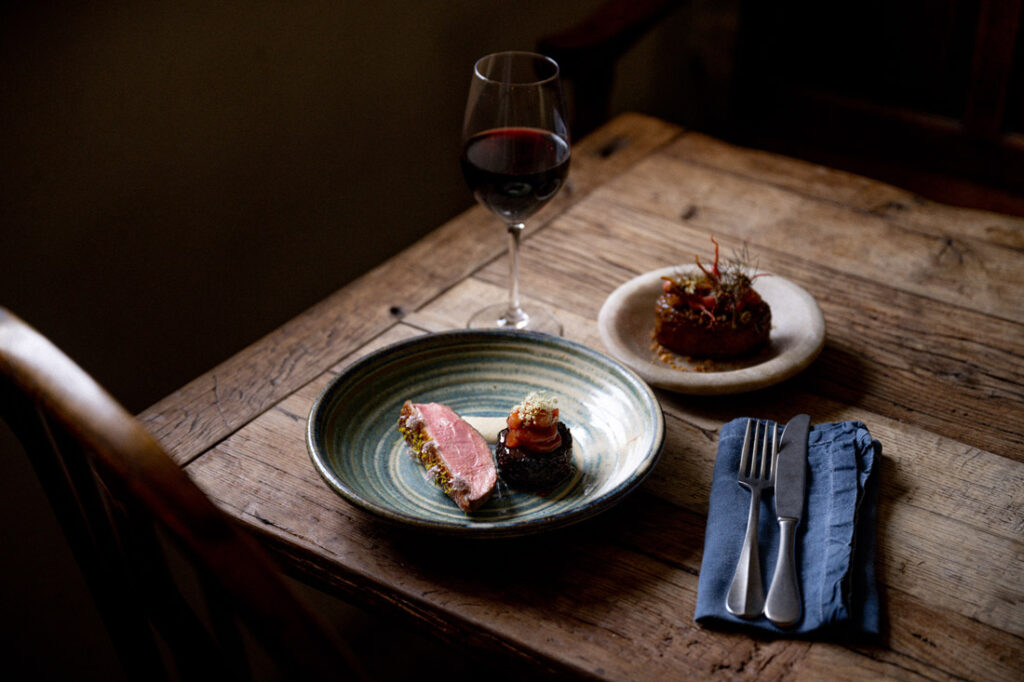 Seasonal mains showcase Ian's zero-waste ethos and include dry-aged Creedy Carver duck (pictured above), which is supplemented with a duck sausage (made from duck legs and offal), tart rhubarb chutney, pickled coriander and fennel seeds, elderflower vinegar and a rich kohlrabi puree.
Of course, this is just a taste of what's on offer at The Farmers Arms this summer as the menu shifts and changes depending on what's ready to eat on the farm. However, you can rest assured that whatever you order will be a beautifully presented snapshot of the season.