Our Head Gardener Josh Sparkes is combining new and traditional techniques in the pursuit of optimum soil health.
Josh (pictured below) takes a postmodern approach to farming at Birch Farm, employing a mix of Japanese-composting, permaculture and biodynamic techniques alongside traditional ways of growing heritage plants. The farm's 150 acres include a huge vegetable garden, flower garden, orchard, syrup grove and gigantic greenhouses and Josh has placed good soil management at the heart of it all.
He says: 'Within food, horticulture and gardening, soil is the most important element. I've done a lot of work studying bokashi, a Japanese type of fermentation composting. In essence, it pickles the organic matter which makes it more readily available to the soil. Regular aerobic composting loses 59 per cent of the source materials back into the atmosphere as greenhouse gases, whereas bokashi loses just one per cent.'
Josh is currently developing a system which will recycle any food left uneaten from The Farmers Arms and use it to fertilise the land. He says: 'I'm not aware of anyone else using a bokashi system in the UK and, if we can make it work, we'll have an entire closed system – from growing to eating to recycling the food waste back into the ground.'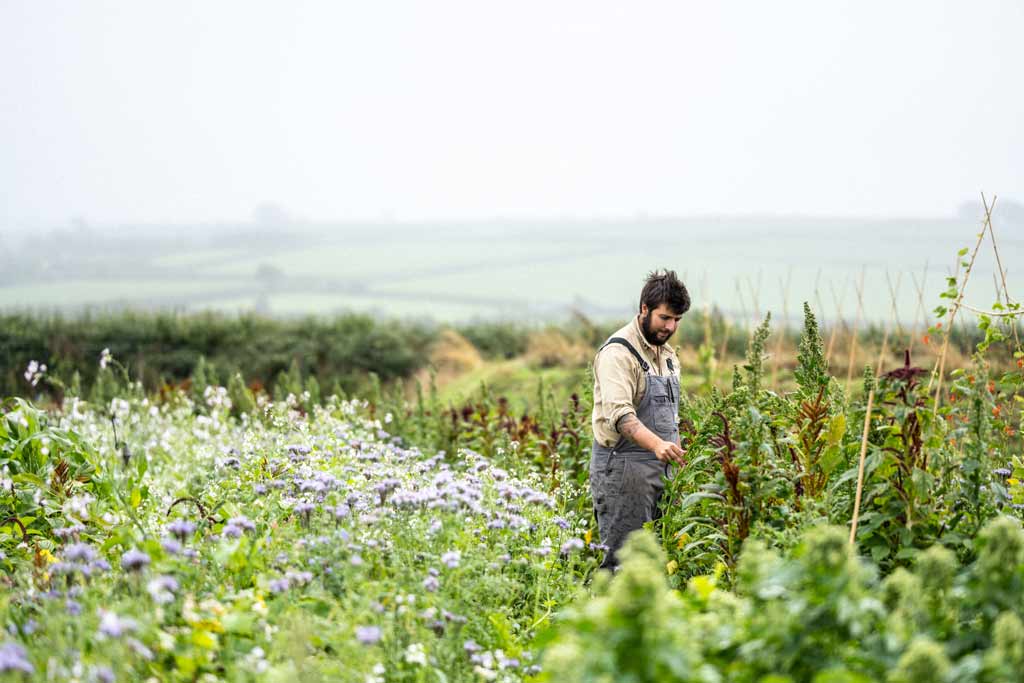 He also uses the traditional technique of planting cover crops to put essential nutrients into the earth, and plant rotation to stop the soil from becoming depleted. 'Teas' – infusions made from own-grown crops – are applied to give the soil an additional boost.
No herbicides, pesticides or artificial fertilisers are used on the farm, and Josh has sculpted the land so that water run-off from one area benefits the crops in another.
One of the more unusual things the gardener is experimenting with is seeding the soil with microorganisms grown from a box of rice planted in wild woods. The idea is to inoculate the earth with the fungi and bacteria essential for vibrant soil health.
Not everyone will get excited about the prospect of soil teeming with good bacteria, or food waste being composted sustainably, but the opportunity to wander through creatively designed gardens ­- executed to the highest ornamental and horticultural standards – and watch bees from the apiary pollinating the flowers will delight even those diners only interested in sitting down to a superlative supper.